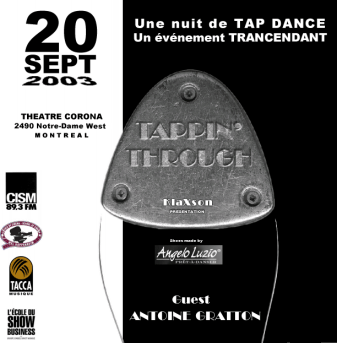 Presented in collaboration with the Angelo Luzio shoes. On September 20th, 2003, as well as on December 13th, 2003, by popular demand, the very first show completely produced by KlaXson was launch at the Corona Theatre, starring both KlaXson's Troup and KlaXson's School.
A trip to the soul of rhythm!
Festive atmosphere, ecliptic rhythms and a show of passion, KlaXson Dance Company is a unique show will pay tribute to tap dancing and it's masters from Fred Astaire to Gregory Hines, to name a few. With an ecliptic and different interpretation of a dance born in America, thirty dancers reinvented rhythm tap through different styles of music: rock, disco, jazz, swing, etc., including accapella and improvisation performances. Twenty or so choreographies had stimulated the senses and awaken the feet of a very exited crowd!
---