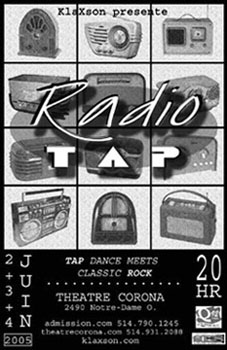 RADIO TAP, a totally new musical production, was presented at the Corona Theatre on June 2, 3 and 4, 2005. It combining live tap dance rhythms to 25 of the world's greatest rock and roll classics to have ever hit the radio waves. This show combined radio and rock music – the soul sisters of the '70s and '80s – and together painted the most unique portrait of the art of foot stomping as it has never been seen before!
On stage, over 30 tap dancers, a group of swing dancers, acrobats and comedians will make songs from Queen, Pink Floyd, Supertramp and many other huge billboard hits come alive.
Special Guests:
Swinging Air Force, #1 swing troupe in Montréal!
---